Octane
Supreme
An Octane Booster that really works!
It's that simple !!!!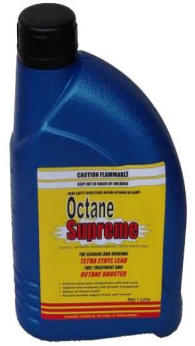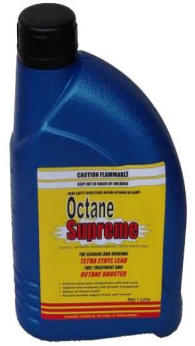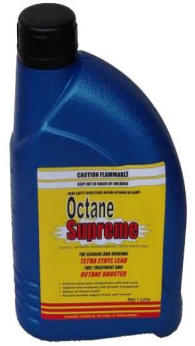 THE ORIGINAL TETRAETHYL LEAD FUEL TREATMENT AND
OCTANE BOOSTER
**new container - **improved formula
Since 1921, TEL has been the original additive that:
1. Boosts Octane numbers
2. Eliminates engine knock, and
3. Protects valves and valve guides....
Only with TEL can you expect the highest performance in these crucial areas.
Why is Octane Supremedifferent from all the "other" additives on the market??
A GENUINE TETRAETHYL LEAD (TEL) FUEL TREATMENT

Octane Supreme contains a high level of genuine Tetraethyl Lead , 59.4 grams per US gallon. Other manufacturers additives contain lead substitutes, such as Ammonium Phosphates, Amine Phosphates, Manganese compounds, Sodium, Sulphur formulas and others..

Octane Supremeis the only product with 100% TEL activant (No Substitutes))
for maximum performance..

Octane Supreme is Legal*, Safe, Economical and Reliable..
Perfect for High Compression Engines, Vintage and Classic Cars & Motorcycles, Stationary Engines and ALL other engines designed to operate on leaded petrol..

By adding Octane Supreme to your fuel, your engine will perform better by increasing horsepower and burning the fuel more efficiently.
Practically all the lead content is burned and deposited on the valves
and valve seats.
More convenient and economical than AVGAS..

You can easily turn available motor fuel into a high octane racing fuel
simply by adding Octane SupremeSee blending chart below.

Makes your engine run smoother and cleaner than LRP..

DOSAGE RATES
Octane Supreme


ml. per 10 Litres of Petrol
Octane Boost


(full points)

25
1
50
2
75
3
100
4
125
5
(The 25ml - 40ml rate provides adequate protection against Valve Seat Recession (VSR) for normal road use)

**NOT to be used in engines designed to operate on UNLEADED fuel.
(i.e. fitted with exhaust sensors, catalytic converters etc.)
**Maximum inclusion rate MUST NOT EXCEED 125mls/10 litres fuel (200mgms/litre Pb)

***Can only be sold to members of recognised motor / water sport associations or clubs***.
***Copy of current club membership card required.***

**By Legislation ALL States and Territories of Australia
***Recognised by the Australian Government under the Fuel Quality Standards Act 2000.

For further info. on TEL
See Tetra Ethyl
Now Manufactured in Australia

Click here for
Material Safety Data Sheet (summary)
(544kb in PDF format)


Material Safety Data Sheet (full report)
(98kb in PDF format)